About V.J. Singal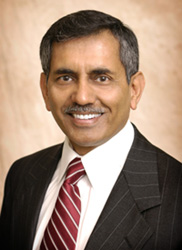 V.J. Singal, president of Houston-based "The Articulate Professional," is a communication expert. A nationally known speaker, he has presented seminars and workshops (see repertoire) at major corporations, federal government entities (including Dept. of the Interior, USDA, and VA), schools and colleges, and conventions/ conferences throughout the U.S. since the mid-1990s. He has also provided one-on-one coaching to professionals ranging from CEOs and other top executives to managers, MDs, attorneys, engineers, and scientists, among others.

Educated at Welham Preparatory School and The Doon School, V.J. has a B.Tech in civil engineering from IIT Delhi and an M.B.A. with Distinction from Northwestern University's Kellogg School of Management. A winner of numerous public speaking contests, V.J.'s opinions have been published in The Wall Street Journal and The Economist, and aired on the BBC, CNN Headline News, KTRK-TV (Houston's ABC affiliate), and KIAH-TV (Houston's Channel 39). He is the author of The Articulate® Professional (3rd edition--2008), a book endorsed by top corporate executives; Words of the Month, an Internet feature which, until June '09, when AvantGo changed its business model, was that Sybase company's most popular educational channel with over 176,000 subscribers; and a blog Juicy and readily applicable tips on how to communicate with impact.


with his Labrador retriever Buddy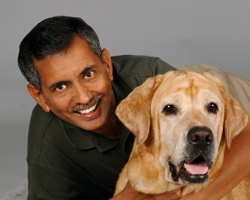 Among those whose presentations and other communications V. J. has invigorated through one-on-one coaching in recent years: the CEOs of four oil companies; executives/ senior managers of ExxonMobil, Shell Oil, the EPA, General Electric, IBM, UTMB Galveston, Deloitte, Turner Construction, Fugro, Sasol, Transocean, Verizon Wireless, Mustang Engineering, Waste Management, J. Ray McDermott, and BMC Software; owners of emerging high-tech and other firms; foreign-born engineers.

V.J.'s No.1 avocation is watching critically acclaimed films. He regards "High Noon," the 1952 Western starring Gary Cooper, to be the most important movie ever made. Discussing "High Noon" during a January 2002 interview, V.J. commented: "In the one hundred-plus years of cinema we have now had, there is no movie that is a finer testament to character, integrity, and personal responsibility. Indeed, the film's central character--that small-town sheriff--is a Mahatma Gandhi of the Wild West!"

A self-described "health, fitness, and nutrition nut," V.J. enjoys running and other outdoor activities, especially walks in nature preserves. His other interests include nature photography, observing wildlife, and listening to classical music. For over 40 years, his favorite composer has been Beethoven whose music he believes was divinely inspired. A regular blood donor, V.J. is a silver-level member of the Gulf Coast Regional Blood Center's Commit for Life.

Prior to establishing "The Articulate Professional" in 1993, V. J. spent 19 years with Fortune 100 corporations, including Texas Instruments.

Contact V.J.
From a 2007 workshop on
How to Communicate with Impact and Sway
presented in Houston




From a seminar on
How to Conquer Rambling & Emphasize Your Point in Just Three Sentences + Some Simple Verbal & Nonverbal Skills for Creating a Highly Favorable First Impression presented to the Jacobs Women's Collaborative in Fort Walton Beach, Florida, on September 15, 2011

Sampling of participant comments